Laboratory data show that HDPE drainage plate can effectively reduce 14 db and 500HZ noise in the room, and has obvious noise reduction and sound insulation function.Drain board is used in the ground or metope, also can have very good ventilated moistureproof effect.
Drainage board can effectively protect structures and waterproofing, and resist various acid-base in soil and root thorns of plants.When backfilling the basement wall, it can protect the building and waterproof layer from damage.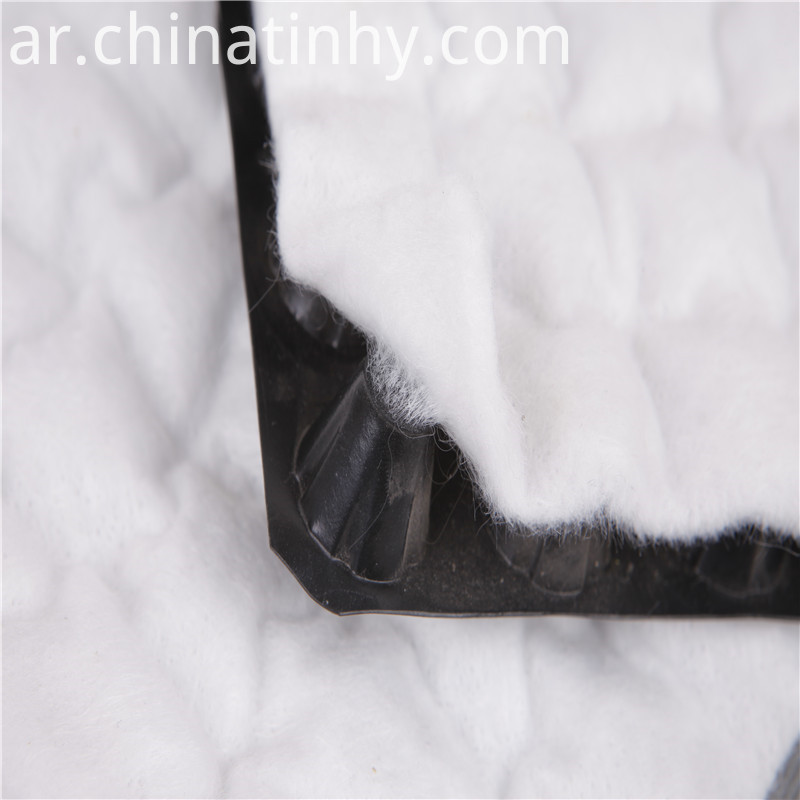 The plastic drainage board is made of high-density polyethylene (HDPE) as the raw material base plate and is punched into a conical projection or a stiffening rib (or hollow cylindrical porous). The top surface of the conical platform is glued with a layer of filter geotextile to prevent the passage of dirt particles, so as to avoid the drainage channel obstructing and smoothing the drainage of the channel. The traditional drainage method uses brick and stone tiles as a filter layer, uses more pebbles or gravel as a drainage layer, and discharges water to a designated location. The use of drainage boards instead of cobblestone drainage to drain water saves time, effort and energy, saves investment, and reduces building loads.
Basic information:
1. Material: HDPE
2. Height: 8 10 12 16 18 20 30 mm
3. Color: white, green, black, blue
4. Width: 1m or 2m or 3m
5. Length: 10-25m
6. High compressive strength
7.Weight:650g/m2----1800g/m2
8.Tensile loading:>150kpa --- >800kpa
9.Drain capacity:5.6-24.8cm3/s
10. Resistance to chemicals, root penetration, microorganism
Drainage board is made of HDPE with impact resistance and pressure resistance which can resist long-term high pressure,and will not generate deformation. The long-term pressure resistance not only can resist weight of concrete bottom plate and its load, but also can bear unav oidable outside pressure and impact force during construction.
Drainage board plays an important role in good drainage system, the civil construction period and normal use of structure. Drain board and also called basement drainage is an effective drain drainage system, cylindrical long-short drainage plate and geotextiles is composed of a drainage system, thus forming a which has the function of water seepage, water storage and drainage system.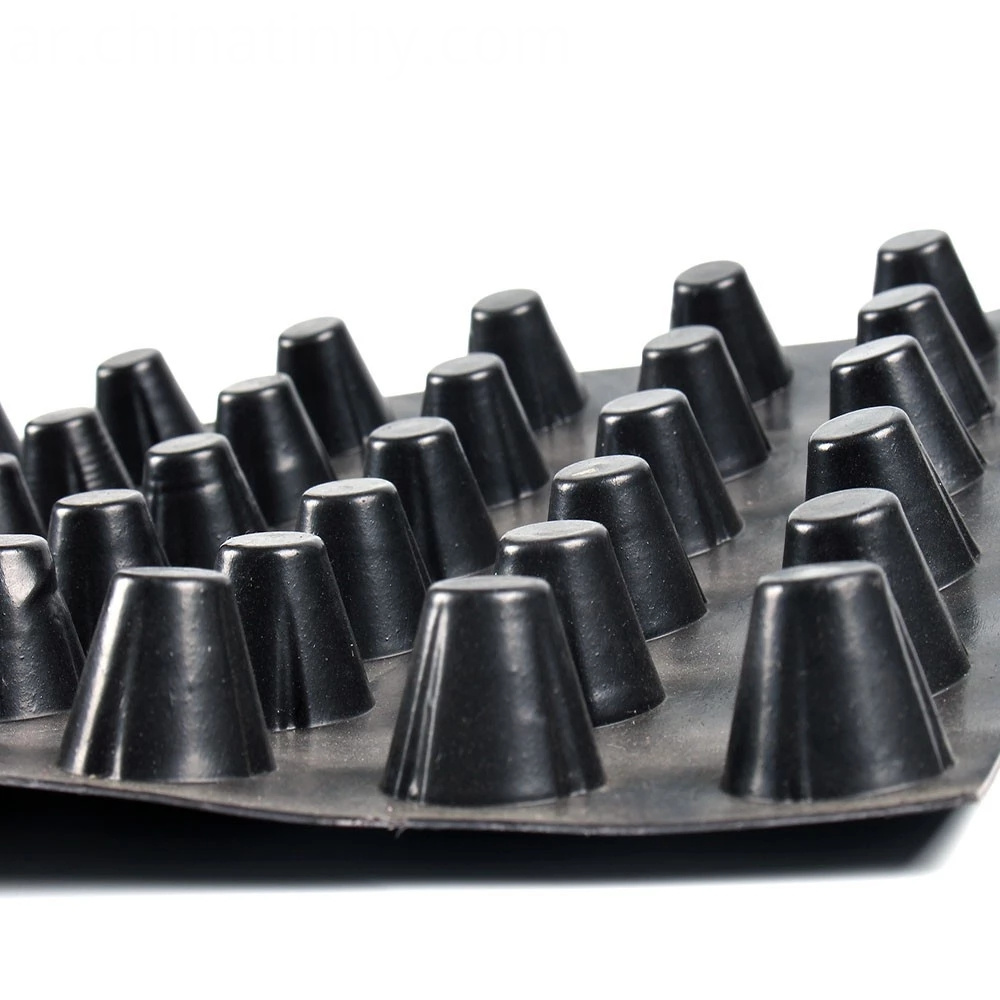 Concave convex drainage board instead of pebbles water drainage has the advantage of time saving, energy saving and saving investment, also can reduce the load of the building.
Dimple Drainage board is using blow molding method to produce high density polyethylene (HDPE) geomembrane, pressed on geomembrane pressure after the special craft the closed swelled the frustum of a cone shape, having a three-dimensional space and some support stiffness, liquid, gas can flow excreted within its plate. This dimples which in spatial structure with certain height can resist long-term high pressure without deformation.
Concave convex drainage board has a good drainage system of the civil construction period and normal use of structure in playing an important role. Drain and porous tubes an effective drain drainage system, cylindrical long-short drainage plate and geotextiles is composed of a drainage system, thus forming the function of water seepage, water storage and drainage system.
| | |
| --- | --- |
| | HDPE 20mm Green Roof Drainage Board |
| | HDPE |
| | Black |
| | 6mm,8mm,10mm,12mm,20mm |
| | 3m |
| | Landscape and Construction Projects for Water proofing and Drainaging |
Dimple Drainage Sheet Feature
1. Convenient construction, easy maintenance and economy.
2.Strong resistance to load and durability.
3.The water can be partially stored and the remaining water can be drained quickly.
4.It provides sufficient moisture and oxygen for plant production.
5.Light weight, the roof heat insulation function strong.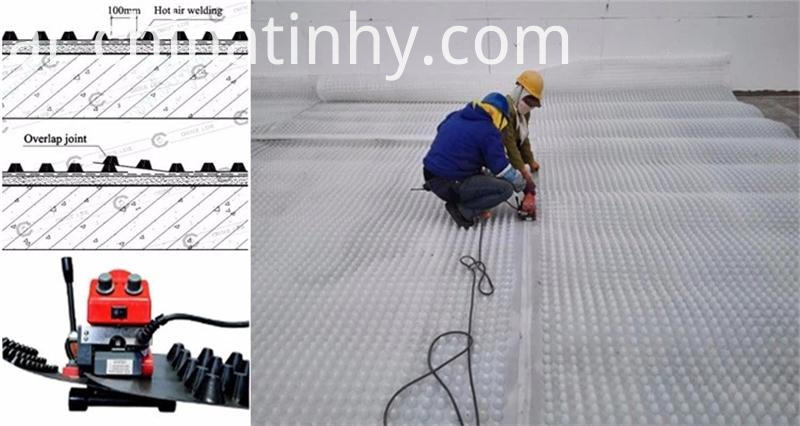 Hdpe Dimple Drainage Sheet Application Range
1. Greening project: the garage roof greening, roof garden, vertical greening, roof greening, football pitches, golf course, etc.
2. Municipal engineering: airport, road embankment, subway, tunnel, landfill, etc.
3. Construction: the upper or lower building foundation, inside and outside the basement wall, floor and roof, roof seepage control and heat insulation layer, etc.
4. Water conservancy project: the reservoir seepage water, reservoir, lake water seepage control, etc.

5. Traffic engineering: highway, railway basement, roadbed, dam and slope protection layer, etc.
Features and Benefits:

Application:

•Low-cost, high efficiency; durable.Efficiently removes only excess water .

• Municipal engineering: road base, subway, tunnel, landfill.

•Chemical resistance, resistance to puncture of plant roots.Promotes fast and excellent plant growth.

• Landscape engineering: garage top greening, roof garden, football field, golf course, beach project.

•Diverse application; simple installation and quality guaranteed.

•Traffic engineering: Highway, Railway basement, Dam and Slope.

•High Load Bearing 150t/m2 unconfined
Strong structure can support heavy loads.

•Construction engineering : Upper or bottom layer of building foundation, Basement wall.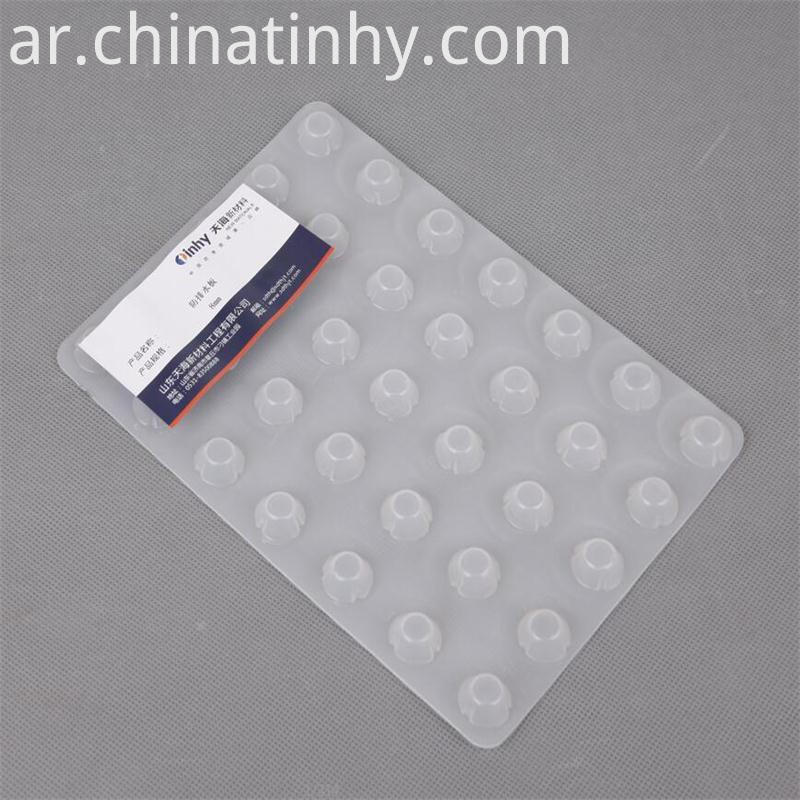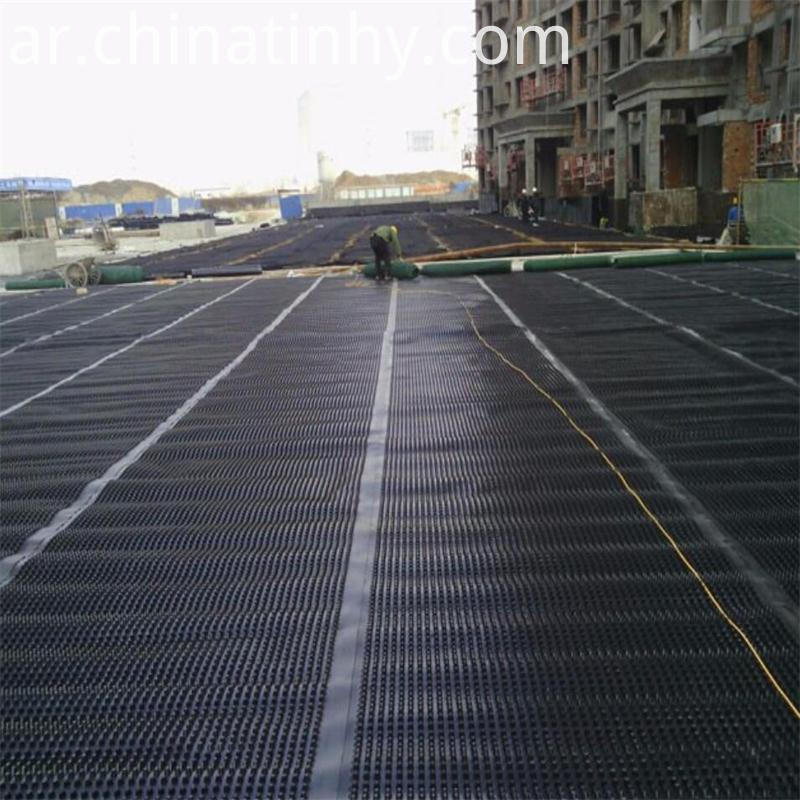 Specification: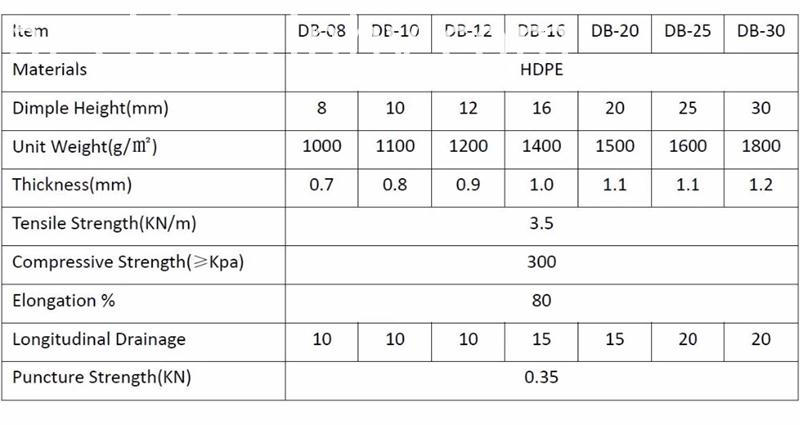 Certificate:

Over the years, the company was awarded [China Famous Brand"[Shandong Top Brand" and [Famous Brand of Shandong Province". CRCC railways product certification, CQC environmental protection certification, the European CE certification, three management systems certification and AAA credit rating certificate has been acquired.

Contact:

Service:
We are willing to supply good quality products and good service to satisfy customer's need!
Whether selecting a current product from our catalog or seeking engineering assistance for your application, you can talk to our customer service center about your sourcing requirements.